Welcome and Thanks for visiting!

Winter hours, 9:30 to 4:30 Monday thru Saturday, Sunday Closed!

Eversewn Sewing Machines on Sale! All Instock Eversewn Sewing Machines are 15% off reg. price. Plus, receive a gift with sewing machine purchase.

Check out December Classes! Short, easy, beginner level.


All MO SHOP HOP STORE BLOCK $2.50 EACH. GET THEM WHILE THEY LAST! (original color)

The Lori Holt sew a long group "Prairie Chicks", meets every Monday at 10:00 am to 12:00 pm. call for more information.
Prairie Meadow, from Lori Holt! Kits are available now Call Bits & Pieces 573-603-1279

"Evening Sky", from Wing and a Prayer, kits available now!

Parisville - DejaVue, Tiny Beasts, Tiny Dots & Tiny Stripes, by Tula Pink have arrived!

Check out our, Collector's Corner, featuring our Toy Sewing Machines and Notions. Inclued is a post on how to start your Toy Sewing Machine collection .

Gift Certificates are available!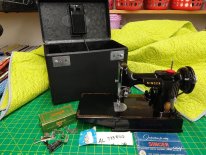 "Friends with Featherweights" meets the 4th Tues. of each month. Time: 10:00 am to 3:00 pm. Next meeting will be Dec, 29, 2022



We do ship! We will also shop by phone with you. Curbside pickup is always available. Call 573-603-1279



Thanks for stopping by to visit!
Cindy and Staff.