Welcome and Thanks for visiting!
Summer hours, 9:30 to 5:00 Monday thru Saturday, Sunday 11:00 to 3:00!

Hwy 36 Quilt Trail Now Through October 31, 2022!
All Missouri Shop Hop begins: Sept. 1, 2022 through Oct. 31, 2022. Fabric is available for pre-sale now. Books are available to purchase now.

Prairie Meadow, from Lori Holt, Sew a long will start Aug. 29, 2022. Kits are on preorder now. Call Bits & Pieces 573-603-1279, for Details.

Coming Soon, "Evening Sky", from Wing and a Prayer.
Tiny Beasts, Tiny Dots & Tiny Stripes, by Tula Pink have arrived!

Summer Fun:
Antique Toy Sewing Machine Trunk Show, Now through Aug 31, 2022. Enjoy seeing toy sewing machines and watch a demonstration of how they work. Learn their history and how to care for them.


Check out our, Collector's Corner, featuring our Toy Sewing Machines and Notions. Plus there will be info on those items featured. A new post is available, discussing how to start your own collection.

Gift Certificates are available!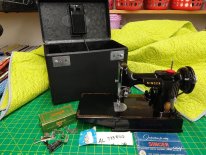 "Friends with Featherweights" meets the 4th Tues. of each month. Time: 10:00 am to 3:00 pm. Sept 27, 2022



We do ship! We will also shop by phone with you. Curbside pickup is always available. Call 573-603-1279



Thanks for stopping by to visit!
Cindy and Staff.