Welcome and Thanks for visiting!
Summer hours, 9:30 to 5:00 Monday thru Saturday, Sunday 11:00 to 3:00!

Hwy 36 Quilt Trail April 1, to October 31, 2022!

Summer Fun:
Antique Toy Sewing Machine Trunk Show, starting May 28 to Aug 31, 2022


Lori Holt "Chicken Salad", Kits Available Call 573-603-1279.
Tula Pink Limited Edition Black & Gold Scissor Tins are available!
From Wing and a Prayer, "Plum Fusion" and "Blooming Fields", kits are available!

Check out our, Collector's Corner, featuring our Toy Sewing Machines and Notions. Plus there will be info on those items featured. A new post is available, discussing how to start your own collection.
Cottage Sampler Quilt-along



Join Patti Carry and the Quilt-along posse as you make your own Cottage Sampler quilt in either throw or queen-size. Based on Patti's Canoe Lake batik fabric collection available in 3 stunning colorways - Autumn Blaze, Lakeside and Misty Morning (

Bits and Pieces is offering the Misty Morning color wave for the quilt along

). The 12-week QAL runs December 29 - March 16.
Gift Certificates are available!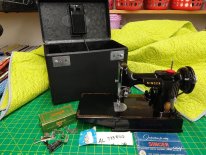 "Friends with Featherweights" meets the 4th Tues. of each month. Time: 10:00 am to 3:00 pm. Bring your Featherweight and join the fun. Our next meeting is April 26, 2022.



We do ship! We will also shop by phone with you. Curbside pickup is always available. Call 573-603-1279



Thanks for stopping by to visit!
Cindy and Staff.