Welcome!
Open hours are Mon - Sat 9:30 to 5:00
Winter hours start Nov. 1, 2021.


Bits & Pieces is proud to announce we are having a "Tula Pink" Event. Starting Nov. 1 through Nov 14, 2021. We are offering discounts on all of our Tula Pink Fabric! We will be live on Facebook Nov. 11, for Bundle Night, the star being your favorite Tula Pink Collections!
Curiouser & Curiouser by Tula Pink, in stock NOW!!


From Wing and a Prayer, "Blooming Fields", kits are available!

Check out our, Collector's Corner, featuring our Toy Sewing Machines and Notions. Plus there will be info on those items featured. A new post is available, discussing how to start your own collection.

Gift Certificates are available!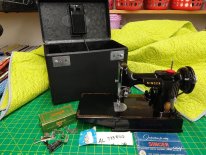 "Friends with Featherweights" meets the 4th Tues. of each month. Time: 10:00 am to 3:00 pm. Bring your Featherweight and join the fun. Our Next meeting is October 26, 2021.



We do ship! We will also shop by phone with you. Curbside pickup is always available. Call 573-603-1279



Thanks for stopping by to visit!
Cindy and Staff.