Open hours are Mon - Sat 9:30 to 5:00.

"Friends with Featherweights" is meeting 4th Tues. of each month. Meeting July 28, 2020. Time: 10:00 am to 3:00 pm.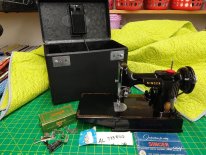 Good News! Hwy 36 Quilt Trail is under way

. We would love to have you visit our store. Free patterns and kits are available in store. We know some of you are not traveling this summer. If you can't make it to the store, you are welcome to purchase the kit online. Bits & Pieces' kit is $10 to order online, just follow the link:
https://www.bitsandpieces2013.com/shop/KITS/QUILT-KITS/p/Hwy-36-Quilt-Trail-2020---Block-Kit-x49335111.htm or call 573-603-1279.