Skip Navigation
Website Accessibility
Why collect toy sewing machines? For value, for the fond memories they evoke, for value or just for the fun of it? Whatever the reason, part of the fun is learning the history of these amazing little machines.

3-17-2021 Buyer Be Aware?
Know which manufacturer has made the machine you are purchasing or collecting. I recently purchased a Model 1B Toy Sewing Machine manufactured by F. W. Muller, Berlin Germany. I had not seen one before and it was a little rusty. Later I saw another Muller model 1, for sale and it was in better shape, so I bought it. When the 2nd one arrived I put the two side by side and started to notice differences. They looked similar but not the same. I checked my collecting guide and found that the 2 machines were made by two different companies and sold about the same. See the pictures below: .


Model 1B manufactured by F.W. Muller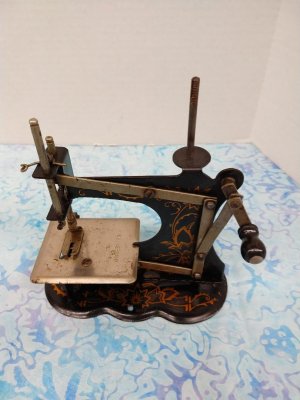 2nd Machine but, was manufactured by Casige, Gevelsberg Germany. Both machines have a Fiddle base, Front mount presser foot, Hand crank on the front and similar shape.

The difference would mainly be in the shape of the body and how the 2 machines are identified on the table.


Muller Model 1B is identified by a serial number.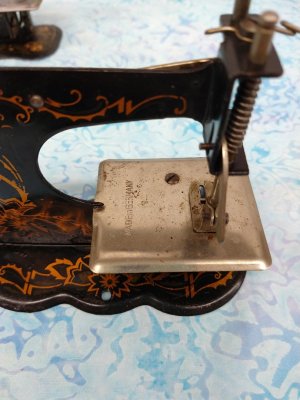 The Casige is identified by a Made in Germany stamp.
So, before you buy, make sure the description of what you are after is the machine you are getting. I will.